Varicose Vein Recurrence
Causes of recurrent varicose veins
Some patients mistakenly believe recurrent varicose vein proves their surgery failed or that varicose vein treatments, in general, don't work.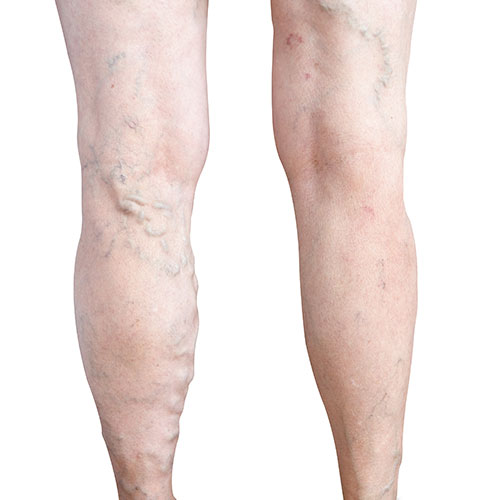 There are three reasons varicose veins recur:
1. Venous disease progression
3. Neovascularity following vein stripping surgery.
1. Venous disease progression
Venous disease progression is the most common cause of recurrence. Although not technically a recurrence of varicose veins, but rather the deterioration of existing veins due to progressive vein disease, this is often thought of as veins "coming back" after treatment. Many people are not aware that varicose veins can be caused by ongoing venous disease, not a one-off vein problem to be treated and forgotten about. They will continue to develop incompetent veins throughout their lives. That is why in these cases, post-treatment reviews, ultrasound scans, and assessments over subsequent years are important.
2. Inadequate diagnosis
Inadequate initial diagnosis is another cause of recurrent varicose veins.
This may mean the wrong veins were treated, or the right veins were treated but with the wrong techniques. Without an expert eye on a comprehensive ultrasound, the feeder veins may not be identified. If these incompetent veins where the problem originates are not identified, varicose veins can recur. If the wrong technique is applied to the veins, e.g.: width of the varicose vein requires a different technique than the one that was used, the problem veins will recur.
Our practice data tells us pelvic veins are the most misdiagnosed or overlooked condition, followed by missed venous reflux and overlooked incompetent perforating veins.
3. Neovascularity
Neovascularity is a complication of vein stripping surgery where primitive blood vessels develop inside the upper thigh area of the leg and the groin. These new vessels develop without valves in the vein wall making the new sections incompetent immediately, causing varicose vein recurrence. This is one of several reasons we don't offer vein stripping surgery at Vein Health.
Recurrent varicose vein treatment
Treating recurrent varicose veins requires skill and expert ultrasound diagnostics. The treating phlebologist needs to have a thorough understanding of why varicose veins have recurred, where to look for them, and how to assess them on ultrasound.
The ultrasound equipment must be highly advanced to detect even the smallest of recurrent blood vessels. Many of the vessels are 1 mm or less making them difficult to observe with older ultrasound equipment.
The treating phlebologist needs to have a full armament of treatments at their disposal. This includes vein glue, ultrasound guided sclerotherapy, and endovenous thermal ablation techniques. Many veins, particularly those that have recurred after stripping surgery, such as neovascularisation high within the thigh and groin, often do not respond to just sclerotherapy. Using vein glue in tandem with sclerotherapy is extremely effective.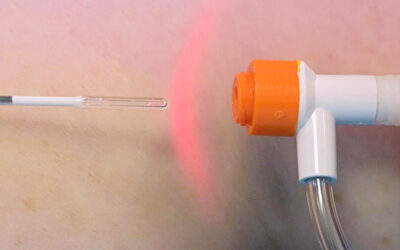 Under ultrasound guidance, a laser fibre is placed into the abnormal vein through a tiny incision. When the laser is activated and the fibre is slowly removed, this produces a reaction in the vein wall along the treated section, resulting in collapse and sclerosis of the vein wall with minimal discomfort.
read more
Preventing varicose vein recurrence
Treating doctors can reduce recurrence.
If we consider the three main causes: venous disease progression, inadequate diagnosis, and neovascularity, in each case, the treating doctor has a part to play in reducing recurrent varicose veins.
Venous disease progression – There is no cure for vein disease, only the treatment of diseased veins and other symptoms as they arise, and their ongoing management. It's vital that doctors establish a treatment and follow-up plan for those with ongoing venous disease.
Inadequate diagnosis – Doctors can ensure an accurate diagnosis by carrying out a comprehensive ultrasound, and identifying all the feeding veins, and treating them before they treat the surface veins and visible spider veins. A comprehensive ultrasound technique is the bedrock of effective treatment of vein disease. Duplex ultrasound credentialing, although not mandatory, is highly recommended. Phlebologists who have a diploma or certificate in vascular ultrasound or have received training through the Australasian College of Phlebology or as part of a DDU (Diploma of Diagnostic Ultrasound), are better positioned to provide accurate and thorough diagnostic assessment.
Neovascularity – Neovascularity can be treated by, again, undertaking a comprehensive ultrasound scan to identify the origin and veins followed by treatment with a combination of EVLA and sclerotherapy. However, we believe vein stripping surgery should be avoided in most cases in the first place. This is supported by various international guidelines.
Patients can help reduce their risk of varicose veins coming back.
Patients who have received treatment can contribute to the health of their veins by maintaining their regular reviews with the treating doctor, get regular follow-up scans, and get assessed periodically to address vein disease progression. The rest is up to the treating doctor.
What to expect
Learn all about your first appointment, what's included, and how much it will cost.