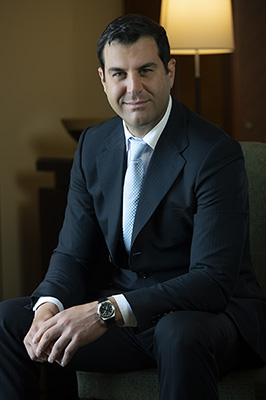 Dr Peter Paraskevas (MBBS, FACP, GCertHSc (Med Sonography)), is a qualified phlebologist and a full member of the Australasian College of Phlebology. He worked in Private Practice during which time he developed an interest in varicose vein disease, venous ulcers, and peripheral arterial disease.
He decided to completely dedicate himself to the assessment and treatment of chronic venous disease and as such, joined the Australasian College of Phlebology specialist training program and completed his Certificate of Sclerotherapy (by examination). He then established Vein Health Medical Clinic, a vein clinic that is solely dedicated to varicose vein disease and treatment. He has since completed the Graduate Certificate in Vascular Ultrasound which certifies him to accurately perform and report on venous disease using the latest in ultrasound technology. He maintains his training in Emergency Medicine by completing the Advanced Life Support Training on an annual basis.
In addition to his formal training in the field of phlebology, Dr Paraskevas has trained with world-renowned phlebologists and vascular surgeons both in Australia and abroad and continues to improve on his skills in a rapidly evolving field. He attends annual conferences of the Australasian College of Phlebology and remains actively involved providing lectures in anatomy and ultrasound. He also attends yearly conferences of the UIP (International Union of Phlebology), held in Europe and the United States, to constantly stay ahead of the evolving trends in varicose vein treatment.
Dr Paraskevas is currently involved in the training of basic registrars of the College of Phlebology. He provides education and hands-on clinical tuition to doctors wishing to enter into the specialty field. He is a regular examiner of both Basic and Advanced Registrars, sitting their preliminary and final oral examinations with the College of Phlebology. In addition to this, Dr Paraskevas regularly provides lectures in the field of phlebology both in a conference and seminar setting.
Dr Paraskevas is an extremely caring doctor who has a passion for treating patients afflicted with chronic venous disease, venous ulceration, and unsightly veins. He aims to provide the best possible treatment outcomes for all his patients in a modern, relaxed environment.
In addition to his ongoing passion in the field of Vein Treatment, Dr Paraskevas has pursued other areas of Surgical Cosmetic Medicine, in particular, Hair Transplant Surgery and Liposuction.
Qualifications:
MBBS (Bachelor of Medicine, Bachelor of Surgery – Monash University)
Certified Sclerotherapist (Australasian College of Phlebology)
Graduate Certificate of Health Science (Medical Sonography – University of Sydney)
PHLEBOLOGIST – F.A.C.P. (Fellow of the Australasian College of Phlebology)
FFMACCS – Fellow of the Australasian College of Cosmetic Surgery
Professional Memberships:
Full Member of the Australasian College of Phlebology
Member of the Australian Institute of Ultrasound
Graduate Fellow of the Australasian College of Phlebology
Graduate Fellow of the Australasian College of Cosmetic Surgery
American Academy of Aesthetics Medicine (AAAM)
Positions Held:
Director Paras Clinic – Vein Health Medical Clinic
Executive Board Member of the Australasian College of Phlebology (ACP)
Executive Board Member of the Australasian College of Cosmetic Surgery (ACCS)
Committee Chair of Continuing Professional Education, ACP
Committee Chair of M.B.S. Committee, ACP
Committee Chair of Membership Approval Committee, ACP
Committee Member Board of Censors, ACP
Chair of the Australasian College of Phlebology Victorian State Faculty