About Dr Peter Paraskevas
Qualifications
MBBS (Bachelor of Medicine, Bachelor of Surgery – Monash University)
Certified Sclerotherapist (Australasian College of Phlebology)
Graduate Certificate of Health Science (Medical Sonography – University of Sydney)
PHLEBOLOGIST – FACP (Fellow of the Australasian College of Phlebology)
Please note – the Australasian College of Phlebology is not an AMC Accredited Speciality.
Positions Held
Medical Director Paras Clinic – Vein Health Medical Clinic
Executive Board Member of the Australasian College of Phlebology (ACP)
Committee Chair of Continuing Professional Education, ACP
Committee Chair of MBS Committee, ACP
Committee Chair of Membership Approval Committee, ACP
Committee Member Board of Censors, ACP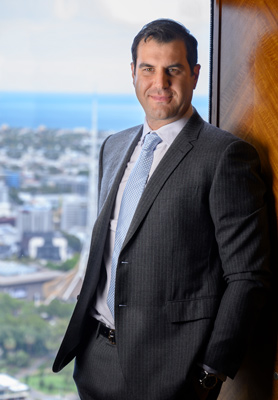 Dr Paraskevas is a medical practitioner who has dedicated his practice to the diagnosis and treatment of venous disease.
He is a graduate fellow of the Australasian College of Phlebology (ACP). The College of Phlebology provides a comprehensive fellowship training program, promotes education and research in phlebology, and provides advice and assistance to the Australian and New Zealand governments, regulatory authorities and the industry in matters relating to industry standards, new developments and reimbursement issues. The ACP is not an AMC accredited speciality. Dr Paraskevas is also a graduate fellow of Royal Australian College of General Practitioners (although he has not worked in general practice for over 15 years, he still maintains his CPD requirements).
Dr Paraskevas is currently a board member of the Australasian College of Phlebology and chairs various committees.
He is on the Board of Censors and has been a co-chief examiner for the college for the past 5 years. He is the chair of the Continuing Professional Development Committee (CPD). In addition to his commitments at board level, he is also involved in educating other doctors at workshops, conferences, and other college events, to help improve standards in the field of phlebology. Dr Paraskevas is actively involved in education and training of basic and advanced registrars of the College of Phlebology. He is a lecturer and examiner, and Vein Health Medical Clinic is a phlebology training centre in Victoria.
Prior to dedicating his practice to the assessment of treatment of chronic venous disease he worked in emergency and general medicine.
He moved full time into phlebology in 2005 and commenced his fellowship training with the Australasian College of Phlebology, which he completed in 2009. He has completed additional training focused on varicose vein disease and treatment. In December 2007, he completed a Post-Graduate Certificate in Medical Sonography with a focus on vascular ultrasound at the University of Sydney.
Dr Paraskevas has published journal papers on ultrasound techniques for femoral vein duplications and the treatment of pelvic veins using ultrasound-guided techniques. He has also contributed to a publication on stroke following sclerotherapy. Dr Paraskevas was one of the contributors in the recently published consensus document on cyanoacrylate closure.