Moderate Varicose Veins
Moderately severe varicose veins are large, dilated, ropey veins that bulge above the skin surface, and are blue-green colour. They no longer serve the primary function of veins, which is to return blood to the heart. Varicose veins can occur alone or with many of the physical manifestations of chronic venous disease.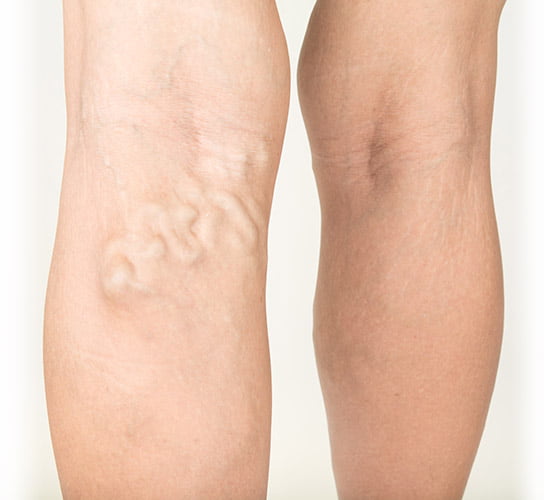 What are the symptoms of moderate varicose veins?
The signs and symptoms of moderate varicose veins may include aching and heavy legs, tiredness, burning, itching, and throbbing.
Some patients may present with none of these symptoms, and may feel that there is nothing wrong with the affected leg. However, there can be real medical consequences to leaving varicose veins untreated. This can be a progressive condition and new faulty veins can develop with time, along with worsening symptoms and complications.
Who is affected by varicose veins?
Varicose veins usually run in families. If one parent has varicose veins you have about a 33% chance of developing vein problems; with both parents this increases to about 90%. Contrary to popular belief, both men and women are affected. It may be noticed earlier in women as symptoms can be exacerbated by pregnancy.
Do you still need those veins?
Varicose veins are no longer serving a useful function to circulation. In fact, when the vein becomes defective, the body develops alternative pathways and bypasses the varicose vein altogether. You will never run out of alternate pathways. When a phlebologist closes down a varicose vein, the circulatory system improves, as do many of the symptoms. The problem veins will not resolve themselves without medical intervention.
How do phlebologists classify the severity of venous disease?
In the past it has been tricky for phlebologists and health professionals to define vein disorders because of the range and severity of symptoms. By creating the CEAP venous disease classification system, discussion of conditions and treatments is standardised across the world. Read more about the CEAP classification system.
How We Treat Moderate Varicose Veins
Moderately severe varicose veins can be treated non-surgically with a combination of Endovenous Laser Ablation and Foam Sclerotherapy. Ultrasound Guided Foam Sclerotherapy is often used to treat moderate varicose veins. Some doctors may also perform Modified Ambulatory Phlebectomy for any larger problem veins.
Vein Health Medical Clinic's treatments are safe and effective procedures with a high success rate. These treatments do not require general anaesthetic or hospital admission, and avoid the potential scarring effects of surgery. In the past, an in-hospital stay for surgery was necessary, but now patients can walk-in, have varicose veins treated in less than an hour, and walk out. No downtime from work is required; patients can return to normal duties immediately.
Dr Paraskevas specialises in non-surgical treatment of varicose veins of all levels of severity, and has developed a reputation as a leader in the application of simple and successful techniques to treat varicose veins.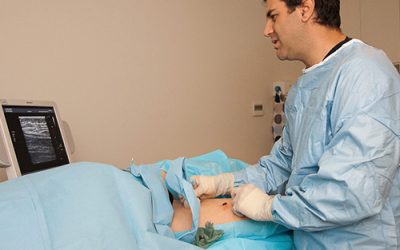 Under ultrasound guidance, a laser fibre is placed into the abnormal vein through a tiny incision. When the laser is activated and the fibre is slowly removed, this produces a reaction in the vein wall along the treated section, resulting in collapse and sclerosis of the vein wall with minimal discomfort.
read more
Your vein surgeon will choose the treatment that perfectly suits your veins.
Patient Transformations
Before & After
Medicare Rebate & Costs
The cost of treating varicose veins depends on severity of the veins as well as which treatment is used. We discuss these costs in detail at your initial consultation.
---
A Medicare rebate is claimable on all procedures, except the most superficial spider veins.

Schedule an Appointment
Call 03 9662 1863 or send us a message and we will contact you
Our friendly staff will discuss all important aspects of your initial appointment and what you can expect.