Severe Varicose Veins / Chronic Venous Disease
Severe varicose veins are large bulgy veins associated with changes in the skin and soft tissue of the lower leg. Varicose veins can be a progressive condition with new diseased veins developing over time. Prolonged high pressure in untreated varicose veins can lead to inflammation in the surrounding tissues of the leg and a number of painful symptoms.
These symtoms can become increasingly severe, especially with advancing age. Until they see a phlebologist, many patients do not realise the symptoms they experience are in fact advanced complications of untreated varicose veins.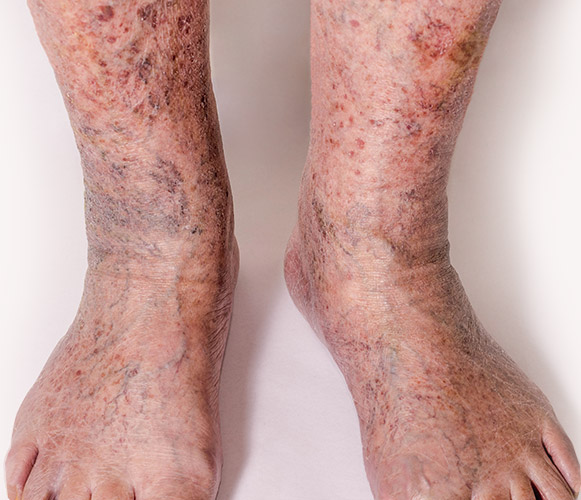 What are the symptoms of severe varicose veins / chronic venous disease?
Patients with severe venous disease may have signs such as venous eczema (venous dermatitis), swelling in the leg (oedema), discolouration of the skin (hyperpigmentation), thickening of the skin of the lower leg or ankle (lipodermatosclerosis), and localised or extensive break downs of the skin barrier, particularly around the ankle region (venous ulceration.) As well as this, patients can experience heaviness, aching and tiredness in the legs. If left untreated, these symptoms are likely to become worse with advancing age.
Lipodermatosclerosis can greatly affect the health of the lower leg and lead to complications such as severe inflammation (phlebitis) and infection (cellulitis); varicose veins can form clots (thrombophlebitis) and venous ulcers can become quite troublesome and difficult to treat, particularly when they bleed, weep or become infected.
Do I need to treat varicose veins? Isn't this just cosmetic?
Many patients complain about their varicose veins being ugly – however, we need to be clear, we are dealing with a medical issue that can become worse over time, and lead to severe complications.
How can I prevent varicose veins?
Patients who have varicose veins are predisposed to developing them at birth. The best thing to do to manage them conservatively (in other words, without having any treatment) is to ensure that you get enough rest, eat a healthy diet, and keep your weight down. This will help your overall health, including your veins.
How do phlebologists classify the severity of venous disease?
In the past it has been tricky for phlebologists and health professionals to define vein disorders because of the range and severity of symptoms. By creating the CEAP venous disease classification system, discussion of conditions and treatments is standardised across the world. Read more about the CEAP classification system.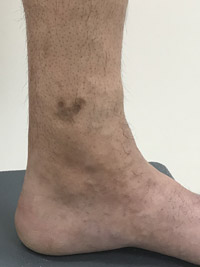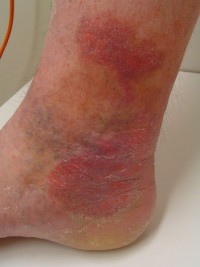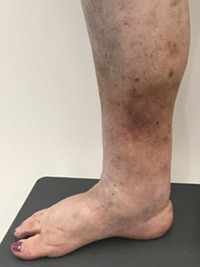 Venous Eczema/Venous Dermatitis
The skin surrounding the severe varicose vein becomes scaly, red and wet. This can be mild and limited to the localised areas, or it can cover the whole lower leg, where the skin is very inflamed.
Oedema – Swelling of the leg
Oedema is a complication of chronic venous disease where the ankle, foot, and/or lower leg swells. Swelling can sometimes occur in patients with less advanced varicose veins, but is often present in advanced cases of severe venous disease.
Hyperpigmentation – Discolouration of the skin
A typical sign of venous disease is the development of a brown discolouration in the area above the ankle. If blood leaks out of the damaged blood vessels, the haemoglobin breaks down and disperses in the tissue. This broken-down haemoglobin causes the discolouration.
Phlebitis and Cellulitis
Severe bacterial infection of the vein and the surrounding tissues below the skin.
Lipodermatosclerosis – Thickening of the skin of the lower leg or ankle
One of the stages of skin change prior to ulceration is referred to as lipodermatosclerosis or chronic panniculitis. The is a thickening of the skin and soft tissue in the lower leg and ankle primarily in association with chronic venous disease and varicose veins.
Venous Ulceration – Breakdown of skin barrier
Localised or extensive breakdown of the skin barrier, particularly around the ankle region. If left untreated, severe venous disease leads to worsening symptoms in the lower legs, which will ultimately culminate in the development of a venous ulcer. The ulcer may be small or large. Ulcer treatment can be complex and must be managed correctly, with a combination of conservative and medical interventions by a phlebologist.
Thrombophlebitis
Inflammation and blood clotting of a vein
How We Treat Severe Varicose Veins / Chronic Venous Disease
Ultrasound guided foam sclerotherapy is an essential and effective treatment for serious venous disease. It is extremely important when treating varicose vein networks in and around areas affected by dermatitis, hyperpigmentation, lipodermatosclerosis and ulceration.
Ambulatory phlebectomy is also extremely useful for the larger varicose veins in advanced disease. Most patients will need several treatments to get the best result possible.
Vein Health Medical Clinic's treatments are safe and effective procedures with a high success rate. These treatments do not require general anaesthetic or hospital admission, and avoid the potential scarring effects of surgery. In the past, an in-hospital stay for surgery was necessary, but now patients can walk-in, have varicose veins treated in less than an hour, and walk out. No downtime from work is required; patients can return to normal duties immediately.
Will they come back?
Generally speaking, the veins that are treated with laser or sclerotherapy do not usually come back. The challenge is to prevent a recurrence of the problem in other veins. Vein Health Medical Clinic manages this in two ways:
Following up procedures with ultrasound examinations, to confirm the success of the treatment and to determine if there are any other veins present which can become a problem in the future.
Avoiding procedures such as traditional surgery, which can more often than not lead to the development of new veins.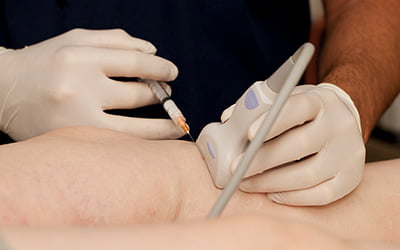 Ultrasound Guided Sclerotherapy is a highly specialised procedure involving injecting a sclerosant solution into the abnormal veins using ultrasound guidance, causing the vein wall to collapse. The veins dissolve and disappear as the body gradually absorbs them.
read more
Your vein surgeon will choose the treatment that perfectly suits your veins.
Patient Transformations
Before & After
Medicare Rebate & Costs
The cost of treating varicose veins depends on severity of the veins as well as which treatment is used. We discuss these costs in detail at your initial consultation.
---
A Medicare rebate is claimable on all procedures, except the most superficial spider veins.

Schedule an Appointment
Call 03 9662 1863 or send us a message and we will contact you
Our friendly staff will discuss all important aspects of your initial appointment and what you can expect.