Today, we're looking at a condition caused by advanced varicose vein disease – venous ulcers.
What is a Venous Ulcer?
Venous ulcers, also known as open sores, are a serious sign of varicose vein disease progression. These sores most commonly appear on the inner side of the leg or ankle, but as we're going to discuss in our patient case study, they can also develop on the outer portion of the lower leg.
The Root Cause
Venous ulcers occur because varicose veins in the legs struggle to effectively circulate blood away from the skin. With the blood pooling and causing gradual skin irritation, the risk of an open sore developing grows if the compromised veins aren't treated. This situation gets even more critical if a minor skin scratch or bump leads to an open sore, which over time can enlarge and potentially become infected.
A Venous Ulcer's Lifespan
Venous ulcers can last from weeks, to months, or even years. Left untreated, they can result in more serious complications like cellulitis (a skin infection) or sepsis (blood infection).
Why Do These Ulcers Occur?
Simply put, venous ulcers result from high pressure in the veins referred to as venous hypertension. When the valves in the veins malfunction, your veins can't effectively circulate blood, leading to it pooling. This causes inflammation, cell death, and eventually, skin ulceration.
Precursors And Symptoms
Several precursor skin changes may herald an oncoming ulcer. These include Corona Phlebectatica, Venous Dermatitis, Lipodermatosclerosis, and Atrophie Blanche. Patients often describe symptoms like leg swelling, leg heaviness and fatigue, skin itchiness, and restless, cramping legs, especially at night.
Visible signs of venous ulcers can include an open sore with a red base, uneven borders, signs of infection, and even fever.
A Patient's Success Story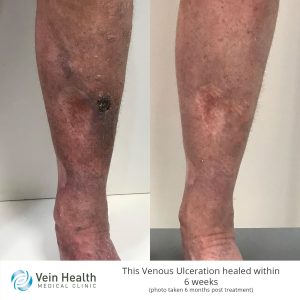 In a recent case at our clinic, a patient developed an ulcer on the outer part of the lower leg after a biopsy of a small skin cancer. As the increased pressure within the patient's varicose veins didn't allow the biopsy wound to heal, over time, the wound grew and became slightly infected. Ultrasound scanning revealed an abnormal Great Saphenous Vein was causing the venous pooling.
Our comprehensive treatment plan included endovenous laser ablation of the Great Saphenous Vein, ultrasound-guided sclerotherapy, daily use of compression stockings, and minimal dressings on the ulcer.
We're delighted to share this patient experienced remarkable healing within six weeks – a testament to the power of addressing the root cause of the issue. An ultrasound after six months confirmed the treated veins had been completely cleared, permanently eliminating the risk of recurrence.
Don't let the discomfort and risk of venous ulcers affect your quality of life. With expertise, compassion, and advanced treatment procedures, Vein Health Medical Clinic is here to guide you towards improved vein health. Contact us today!
Key Takeaways
Venous ulcers, or open sores, are a serious symptom of advanced varicose vein disease.
These ulcers can develop due to the high pressure in varicose veins, which leads to blood pooling, skin irritation, and the potential formation of open sores.
Symptoms preceding an ulcer can include a variety of skin changes and discomforts like leg swelling, leg fatigue, skin itchiness, and restless, cramping legs.
In serious cases, venous ulcers can lead to severe complications like cellulitis or sepsis if left untreated.
Endovenous laser ablation, ultrasound-guided sclerotherapy, use of compression stockings, and proper wound care at Vein Health Medical Clinic can effectively treat the underlying cause of venous ulcers.