Guidelines for diagnosis and management of venous disease.
Refer a patient for varicose vein assessment and treatment
What will the phlebologist do?
Dr Paraskevas will assess the patient's medical history and perform a clinical examination of the areas of concern. The Vascular Sonographer will conduct a duplex ultrasound, mapping out the abnormal veins in the legs and groin. Dr Paraskevas will explain the findings and create a treatment plan. This may include the use of treatments such as sclerotherapy, ultrasound-guided sclerotherapy, endovenous laser ablation, radiofrequency ablation, and VenaSeal (superglue for veins).
Classifying the severity of varicose veins
CEAP stands for:
Clinical – The patient's clinical presentation. There are 6 categories ranging from CEAP 0 (no venous disease) to CEAP 6 (venous ulceration). See below.
Etiology – Is the problem congenital, primary or secondary.
Anatomy – Which veins are involved? Are superficial, deep, or perforating veins involved?
Pathophysiology – Is there reflux or obstruction?
CEAP Classifications
CEAP 0 – No visible or palpable signs of venous disease
CEAP 1 – Superficial spider veins, telangiectases, or reticular veins
CEAP 2 – Varicose veins only
CEAP 3 – Ankle oedema (swelling) of venous origin, not foot oedema
CEAP 4a – Dermatitis/eczema and/or hyperpigmentation
CEAP 4b – Lipodermatosclerosis and or atrophie blanche
CEAP 4c – Corona phlebectatica paraplantaris (CPP)
CEAP 5 – Healed venous ulcer
CEAP 6 – Active venous ulcer (open sore)
Learn more about CEAP classification of varicose veins.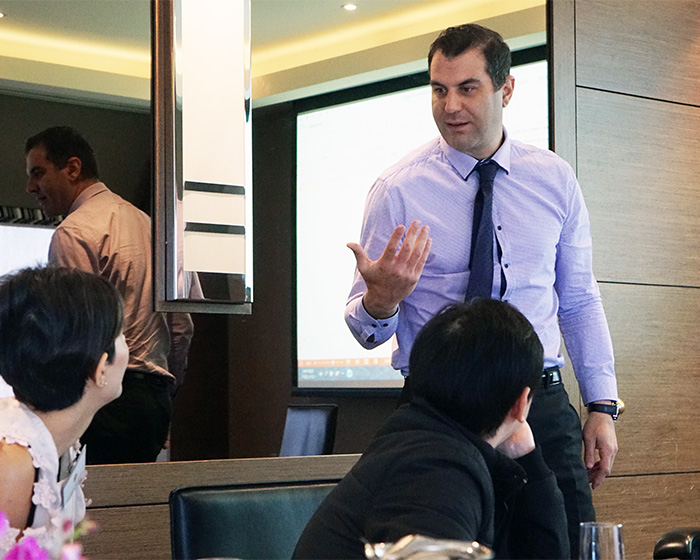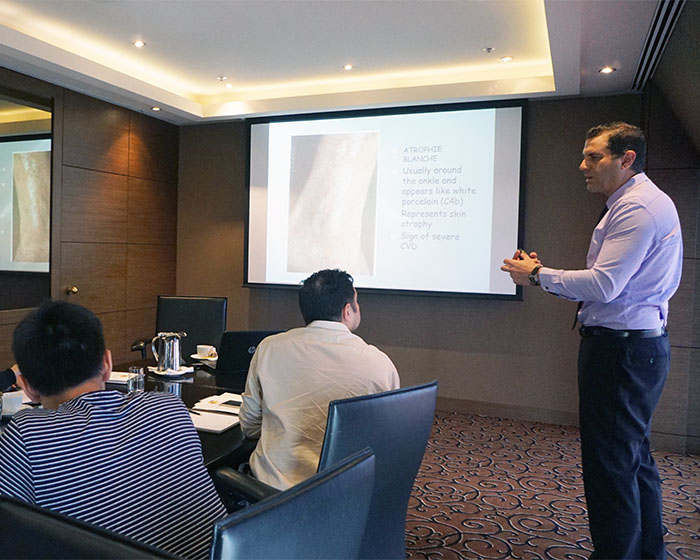 Education Sessions for General Practitioners
We're now accepting expressions of interest from GPs for our next varicose vein training session.
Dr Peter Paraskevas, Medical Director of the Vein Health Medical Clinic, will present the latest advancements in varicose vein assessment and management.
The role of the phlebologist in scanning, diagnosing & managing venous disease
Presentation of the CEAP classification of venous disease
Modern treatment modalities and the role of duplex ultrasound
Case presentations relevant to General Practice
Expressions of Interest – GP Education Session
Featured on Channel 9 news
Also featured on:



Read more about venous disease and its treatment.
Right-click a link and click "Save Link As…" to download the PDF.
Triage of patients with venous and lymphatic diseases during the COVID-19 pandemic
By Kurosh Parsi, Andre M. van Rij, Mark H. Meissner, et. al. (including Peter Paraskevas)
Comparison of cyanoacrylate closure and radiofrequency ablation for the treatment of incompetent great saphenous veins
By Nick Morrison, Raghu Kolluri, Michael Vasquez, Monte Madsen, Andrew Jones, and Kathleen Gibson
Removal of Periocular Veins by Sclerotherapy
By David Green, MD
Cyanoacrylate embolisation for the treatment of varicose veins due to chronic venous insufficiency – MSAC Report
Phlebolymphology, Vol 24, No. 3, 2017, P117-172
Jean-Luc Gerard, Lourdes Reina, Yu. T. Tsukanov, A. Yu. Tsukanov, Sarah Thomis, Djordje Radak, Slobodan Tanaskovic.
Three cases of stroke following peripheral venous interventions
By R W L Ma, A Pilotelle, Peter Paraskevas and K Parsi.
Successful ultrasound-guided foam sclerotherapy for vulval and leg varicosities secondary to ovarian vein reflux: a case study
By Dr Peter Paraskevas (MBBS, FACP, GCertHSc (Med Sonography)
Femoral vein duplication: incidence and potential significance
By Dr Peter Paraskevas (MBBS, FACP, GCertHSc (Med Sonography)
Endovenous Laser Therapy (ELT) for Varicose Veins – Assessment Report
By Medical Services Advisory Committee
Radiofrequency Ablation and Laser Ablation in the Treatment of Varicose Veins
Jose I. Almeida (MD, FACS, RVT) and Jeffrey K. Raines (PhD, RVT)
Persistent Sciatic Veins and Sciatic Nerve Varicosities
By Dr David Jenkins
About Dr Peter Paraskevas
Qualifications
MBBS (Bachelor of Medicine, Bachelor of Surgery – Monash University)
Certified Sclerotherapist (Australasian College of Phlebology)
Graduate Certificate of Health Science (Medical Sonography – University of Sydney)
PHLEBOLOGIST – FACP (Fellow of the Australasian College of Phlebology). Note: the Australasian College of Phlebology is not an AMC Accredited Speciality.
Positions Held
Medical Director Paras Clinic – Vein Health Medical Clinic
Executive Board Member of the Australasian College of Phlebology (ACP)
Committee Chair of Continuing Professional Education, ACP
Committee Chair of MBS Committee, ACP
Committee Chair of Membership Approval Committee, ACP
Committee Member Board of Censors, ACP