Varicose veins are an unpleasant and often uncomfortable fact of life. They range from the small purple, known as spider veins, through to large bulging veins that cause discomfort or pain. Most of us will have noticed some of these popping up, but what about the varicose veins you can't see? If you are experiencing discomfort, itching, pain or cramping and restless legs, you may very well have some varicose veins that are hidden below the surface.
What causes varicose veins?
There isn't a lot known about the specific causes of varicose veins, but often they are hereditary and show up equally across women and men, but often appear earlier in life for women. (This can be as a result of hormone fluctuations experienced during puberty and pregnancy.) Varicose veins can also be a result of obesity, aging, jobs that involve a lot of standing, lack of mobility and leg injuries. Varicose veins are not just found in the legs but can also be present in the pelvis and groin. This is especially common for women after pregnancy, but it is also possible for men to suffer from pelvic varicose veins. If you are experiencing a similar discomfort around the pelvis it is possible that there are hidden varicose veins present.
What are hidden varicose veins?
When a vein in the deeper venous network becomes varicose it is not visible on the surface of the skin. It can still cause a lot of discomfort, swelling, and pain in the legs and pelvis. Though varicose veins are largely harmless, it is possible for blood clots to form at the site of a deep varicose vein. If you are experiencing any discomfort, swelling, itching, etc. but cannot see any varicose veins, it may be a good idea to get yourself checked.
How do we check for varicose veins?
At the Vein Health Medical Clinic, patients will first go through a consultation with one of our doctors. Then the patient will go through a Duplex Ultrasound Examination to determine if there are any hidden varicose veins present in the legs or pelvis. This examination is extremely detailed and will be performed by a phlebologist or the specialised vascular sonographer. Usually, the scan will take anywhere between 30 – 45 minutes and will be able to outline any hidden varicose veins deep below the skin surface.
Are hidden varicose veins treatable?
There are several different ways to treat veins that are not visible at the surface.
Ultrasound Guided Sclerotherapy – This procedure has been specifically created for treating deep varicose veins. It uses the Duplex Ultrasound Examination to create a map of the leg veins, allowing for targeting of the varicose or abnormal veins. This will also allow for the specialist to pinpoint the cause of the abnormalities. Using the map of the veins, the doctor uses a needle to inject the varicose vein, collapsing the vessel and allowing it to be absorbed by the body. This method of treatment is extremely effective.
Endovenous Laser Ablation – Again, this method is guided by ultrasound and is often used for the treatment of major veins. For this procedure, the patient is given a local anesthetic and a laser fibre is placed into the vein through a small incision. This will cause a reaction that collapses the vein with minimal discomfort. This method is also extremely successful and is an excellent way to treat larger hidden varicose veins.
VenaSeal Vein Glue – This method is the most recent and high-tech way to remove varicose veins. It uses medical glue, known as VenaSeal, to shut off the abnormal vein, allowing it to harden and be reabsorbed by the body. The glue is administered via a small catheter, and once the abnormal vein is closed, the blood will be safely redirected into the healthy veins of the leg. This procedure is popular since it is minimally invasive.
If you have any concerns, discomfort or reason to believe that you could be suffering from a hidden varicose vein, then visit Vein Health Medical Clinic for a consultation.
Key Takeaways
Varicose veins can occur within the deeper vein networks of the legs and pelvis and may not be visible on the skin surface. These unseen veins are often accompanied by the same other symptoms as surface veins: discomfort, itching, pain or cramping, restless legs, etc.
Hidden varicose veins can be treated by ultrasound guided sclerotherapy, endovenous laser ablation, and VenaSeal vein glue.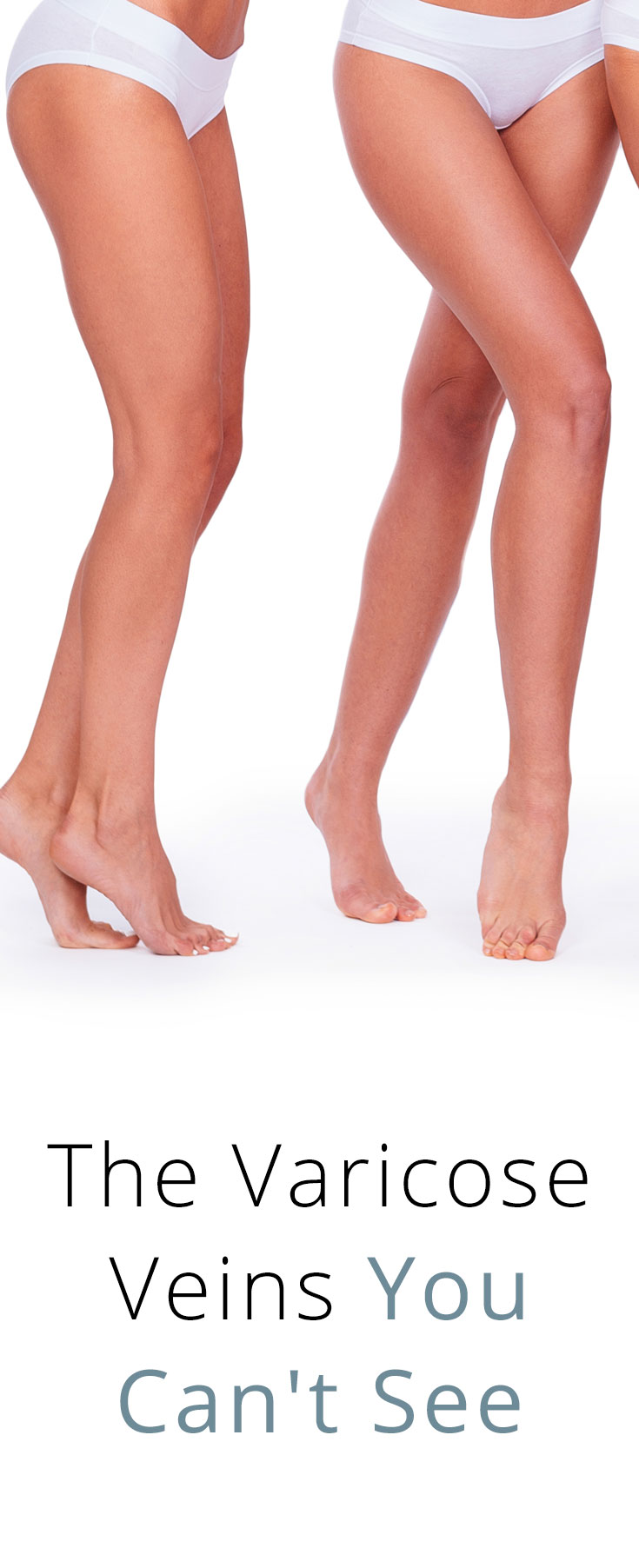 What causes varicose veins?